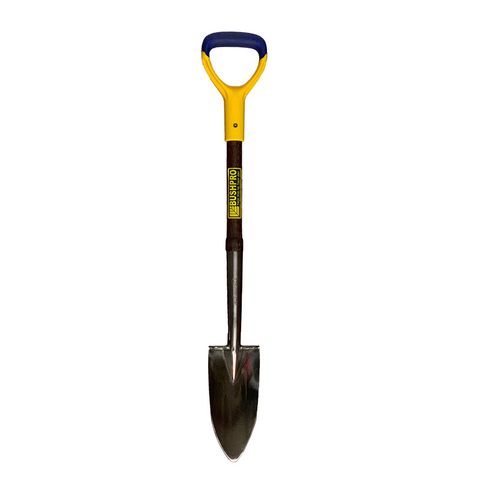 Description
BUSHPRO Hiballer Stainless Steel Planting Spade
THIS IS THE 2ND MOST POPULAR SHOVEL IN CANADA AND VERY POPULAR WORLDWIDE.
Almost identical to its sibling the speed spade this shovel is just 1/2" wider in the blade.
Bushpro's planting spades come with Grade A North American hickory wood shafts. 2 to 4 ounces lighter than before, just as strong and with the natural vibration absorbing properties that the wood provides.
Features:
Blade 108mm wide tapering to 83mm
Weight on average 1.5kg
Spade length from tip to top of handle - 864mm
Hickory shaft stained blue or brown
LIFETIME BLADE WARRANTY! Beware of look alikes with limited warranties!
All planting spades specs.
Click on a spade name in the table to go to that spade.
Yellow highlighted specs are for this spade.
| | | | | | | | |
| --- | --- | --- | --- | --- | --- | --- | --- |
| Spade | Shaft | Length | Blade Length | Blade Width Top | Blade Width Bottom | Blade Thickness | Weight |
| Ace 1 | Straight | 960mm | 300mm | 170mm | 120mm | 4mm | 2.90kg |
| Ace 1 Light | Straight | 960mm | 300mm | 170mm | 120mm | 3.2mm | 2.75kg |
| King | Straight | 980mm | 320mm | 150mm | 100mm | 4mm | 2.85kg |
| Poker | Straight | 960mm | 290mm | 150mm | 125mm | 4mm | 2.70kg |
| Jack 1 | Offset | 960mm | 300mm | 170mm | 120mm | 4mm | 3.10kg |
| Jack 2 | Offset | 960mm | 300mm | 170mm | 125mm | 4mm | 2.95kg |
| Jack 3 | Offset | 960mm | 300mm | 170mm | 125mm | 4mm | 3.30kg |
| Little Ripper | Offset | 960mm | 280mm | 135mm | 90mm | 4mm | 2.30kg |
| KT Spade | Straight | 970mm | 410mm | 180mm | 130mm | 4mm | 3.05kg |
| Beez Neez T | Straight | 1100mm | 250mm | 100mm | 80mm | 4mm | 3.20kg |
| Beez Neez H | Straight | 900mm | 250mm | 100mm | 80mm | 4mm | 2.25kg |
| PC290 | Straight | 864mm | 230mm | 108mm | 83mm | 3mm | 1.50kg |
| PC270 | Straight | 864mm | 220mm | 98mm | 70mm | 3mm | 1.40kg |
| TS4 | Straight | 900mm | 310mm | 150mm | 110mm | 3mm | 2.30kg |
| TS5 | Offset | 900mm | 310mm | 150mm | 110mm | 3mm | 2.30kg |
| TS6 | Straight | 960mm | 310mm | 150mm | 110mm | 3mm | 2.40kg |
| TS7 | Offset | 960mm | 310mm | 150mm | 110mm | 3mm | 2.40kg |
| Walsh | Offset | 1010mm | 300mm | 150mm | 110mm | 3mm | 2.40kg |