Home

/

Sena

/

Sena Tufftalk Lite Comms - Helmet Mount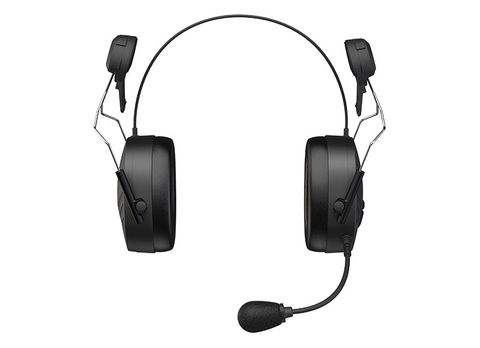 Sena Tufftalk Lite Comms - Helmet Mount
Description
Sena Tufftalk Lite - Helmet Mount
Earmuff Bluetooth Communication Headset.
An industrial strength earmuff featuring a minimal, yet protective design that packs long-range Bluetooth intercom communication with 3 other people along with smartphone connectivity.
Tufftalk Lite features a minimal design and packs the Bluetooth 4.1 communication technology you need to get the job done safely and efficiently. Tufftalk Lite is a lower profile, and more cost effective version of it's predeccesor, the original Tufftalk. Use this protective earmuff to communicate with up to 3 other workers over 800m, listen to music, and even connect to your smartphone to take and make calls. The seamless Bluetooth intercom communication allows users to talk freely and without interruption, with HD-quality speakers and Advanced Noise Control microphone technology delivering audio that's clear and precise in even the loudest of work environments.
Connection and Protection
Loud work environments can be detrimental to the overall health of workers over time. Tufftalk Lite provides an extra degree of jobsite protection by helping to dull loud, distracting noises for optimum comfort as well as providing the necessary protection from permanent damage to your hearing, making it the ideal solution for noisy work environments. Tufftalk Lite has a Noise Reduction Rating of 21 dB, while still providing vital awareness of threats on the job through instant communication with coworkers instead of shouting or using hand signals. An optional hard hat mounted earmuff version of the Tufftalk Lite allows for even further onsite protection as well.
Versatle Connectivity with the Tufftalk Lite
Using Bluetooth 4.1, pair the Tufftalk Lite to your smartphone or Bluetooth music device such as an MP3 player to make or receive calls and listen to all of your music through the high quality HD speakers. Use the Sena Smartphone App when paired to your smartphone, to easily configure settings, set up speed dial presets or create FM radio station presets to listen to through the built-in FM radio feature.
SENA SMARTPHONE APP FOR TUFFTALK LITE
Download the Sena Smartphone App on your iPhone or Android to set up your group and stay connected with your friends. Save time with the Sena Smartphone App.
DOWNLOAD THE LATEST FIRMWARE UPDATES
As Bluetooth tech advances, your gear keeps pace.
You'll never have to worry about your Bluetooth device capabilities becoming obsolete. Just register once, and you'll get all firmware updates for free -- extending the life and value of your purchase.
Tufftalk Lite Quick Start Guide and User Guide are available HERE.
GENERAL
Talk time: up to 13 hours
DIMENSIONS
Headset: 170 mm x 195 mm x 95 mm
Speaker: driver unit 32 mm - thickness 7.1 mm
Boom microphone length: 160mm
Weight:
Over-the-Head Earmuff: 343 g (12.1 oz)
Hard Hat Mount Earmuff: 354 g (12.5 oz)
BLUETOOTH
Bluetooth 4.1
Headset Profile (HSP)
Hands-Free Profile (HFP)
Advanced Audio Distribution Profile (A2DP)
Audio Video Remote Control Profile (AVRCP)
INTERCOM
Up to 800 m in open terrain
NOISE REDUCTION RATING
Over-the-Head Earmuff Type
NRR (ANSI S3.19-1974, US): 21 dB
Hard Hat Mount Earmuff Type
NRR (ANSI S3.19-1974, US): 20 dB
AUDIO
Advanced Noise Control™
Built-in SBC Codec
Wide volume control
Sample rate: max. 48 kHz (DAC)
FM RADIO
Built-in FM radio with RDS AF (Radio Data System Alternate Frequencies)
Radio region: worldwide
Radio frequency specifications: 76 - 108MHz
10 preset station memory with automatic scan function
BATTERY
Charging time: 3 hours
Type: Lithium ion (default) or 3 AAA batteries required (optional)
CERTIFICATES