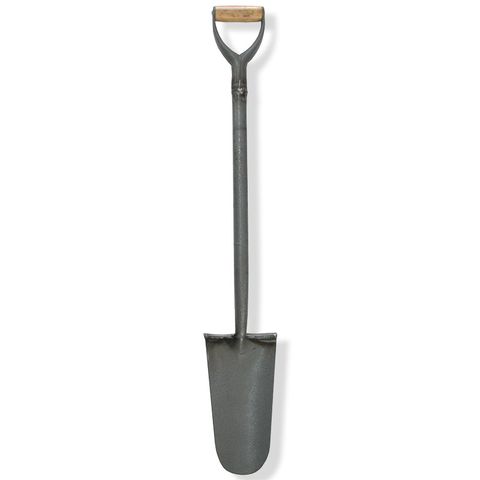 Description
TIMBERSAWS Walsh Planting Spade
A drop forged trenching spade that has been modified and strengthened for planting trees. Good in all soil types.
These spades have their shafts offset to the blades. The blades are round mouthed and thin for fast deep penetration of the ground.
The offset shaft spades are better aligned for pushing/pulling on the spade to cultivate/open up the soil due to the fact the shaft is offset reducing arm travel to open the hole.
Modified by Levin Sawmakers N.Z.
All planting spades specs.
Click on a spade name in the table to go to that spade.
Yellow highlighted specs are for this spade.
| | | | | | | | |
| --- | --- | --- | --- | --- | --- | --- | --- |
| Spade | Shaft | Length | Blade Length | Blade Width Top | Blade Width Bottom | Blade Thickness | Weight |
| Ace 1 | Straight | 960mm | 300mm | 170mm | 120mm | 4mm | 2.90kg |
| Ace 1 Light | Straight | 960mm | 300mm | 170mm | 120mm | 3.2mm | 2.75kg |
| King | Straight | 980mm | 320mm | 150mm | 100mm | 4mm | 2.85kg |
| Poker | Straight | 960mm | 290mm | 150mm | 125mm | 4mm | 2.70kg |
| Jack 1 | Offset | 960mm | 300mm | 170mm | 120mm | 4mm | 3.10kg |
| Jack 2 | Offset | 960mm | 300mm | 170mm | 125mm | 4mm | 2.95kg |
| Jack 3 | Offset | 960mm | 300mm | 170mm | 125mm | 4mm | 3.30kg |
| Little Ripper | Offset | 960mm | 280mm | 135mm | 90mm | 4mm | 2.30kg |
| KT Spade | Straight | 970mm | 410mm | 180mm | 130mm | 4mm | 3.05kg |
| Beez Neez T | Straight | 1100mm | 250mm | 100mm | 80mm | 4mm | 3.20kg |
| Beez Neez H | Straight | 900mm | 250mm | 100mm | 80mm | 4mm | 2.25kg |
| PC290 | Straight | 864mm | 230mm | 108mm | 83mm | 3mm | 1.50kg |
| PC270 | Straight | 864mm | 220mm | 98mm | 70mm | 3mm | 1.40kg |
| TS4 | Straight | 900mm | 310mm | 150mm | 110mm | 3mm | 2.30kg |
| TS5 | Offset | 900mm | 310mm | 150mm | 110mm | 3mm | 2.30kg |
| TS6 | Straight | 960mm | 310mm | 150mm | 110mm | 3mm | 2.40kg |
| TS7 | Offset | 960mm | 310mm | 150mm | 110mm | 3mm | 2.40kg |
| Walsh | Offset | 1010mm | 300mm | 150mm | 110mm | 3mm | 2.40kg |