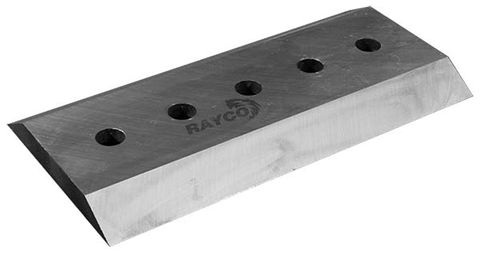 KNIFESOURCE Chipper Knives
Matching up the proper tool steel, and heat treating methods is an art. Not all knife manufacturers understand the importance of creating a "tough" safe-zone centre area while presenting a refined grain structure with the proper hardness at the cutting edge. Producing a safe, high performance brush chipper knife is an art that The KnifeSource family developed and has improved on since its inception. The illustration helps you better understand the importance of sound heat treatment and selecting a knife supplier that uses the ideal tool steel analysis for a "safe" chipping operation.
The KnifeSource Trade Show 01:30 from J.M. Berrios on Vimeo.
Specs:
Manufacturer

Chipper

# of
holes

Dimensions (inches)
DE = Double Edged

Order Code

OEM #

Brush Bandit

90

2

5 3/32 x 4 x 3/8

DE

KSBC-22

900-9900-04

65, 100XP, 150XP, 200XP

3(1/2")

7 1/4 x 4 x 1/2

DE

KSBC-26

900-9902-00

250XP, 280XP, 1200, 1250, 1400

3(5/8")

KSBC-26A

150XP, 200+XP, 250XP,

3

7 1/4 x 4 1/2 x 1/2

DE

KSBC-36

900-9901-18

254XP, 280XP, 1850

2(5/8")

5 3/32 x 4 1/2 x 1/2

DE

KSBC-35

900-9901-19

90XP, 280XP

2

5 3/32 x 4 x 1/2

DE

KSBC-33

900-9901-10

95XP

4(1/2")

10 1/8 x 3 5/8 x 9/16

DE

KSBC-72

900-9901-17

100, 150, 200, 250

3

7 1/4 x 4 x 3/8

DE

KSBC-1

900-9900-02

1890 Intimidator

3

10 x 5 1/2 x 1/2

DE

KSBC-34

900-9901-54

1890 Intimidator (Mfg'd after Nov'99), 1590

5

10 x 5 1/2 x 5/8

DE

KSBC-34T

900-9902-27

990XP, 1090XP, 1390, 1490

4

9 x 5 1/2 x 5/8

DE

KSBC-175

912-3001-47

1990, 3590, 2290, 2090

6

12 1/8 x 5 1/2 x 5/8

DE

KSBC-152

900-9904-38

Chippo

10

3

185mm x 50mm x 8mm

KSBC-196

Dosko

510, 610

5

11 1/2 x 4 x 5/8

DE

KSBC-70

30011

ANVIL

KSA-40

Gravely

395, 944

5

10 x 3 x 3/4 Tapered

KSBC-53

118-135180

Morbark

2050, 2060, 2070, 2200, 2400,

4

10 1/2 x 5 x 1/2

DE

KSBC-27

39233-692

2400, 14, 15, 18

10 1/2 x 5 x 5/8

DE

KSBC-27T

39233-813

3036

Slotted

10 1/2 x 4 3/16 x 1/2

KSC-57

39233-774

17, 13, 20EZ, 20/36

6

ANVIL 21 x 3 3/4 x 1/2

KSA-12

175, 10/36, 10/20, 20290D

4

10 1/2 x 4 x 3/8

KSBC-9

RAYCO

RC6D, RC6DV

3

8 x 4 1/2 x 5/8

DE

KSBC-128

763081

ANVIL

13629

RC814

4

10 1/2 x 4 x 3/8

DE

KSBC-9R

801109

RC1220

5

10 x 5 x 5/8

DE

KSBC-138

800749

RC20XP, RC12

5

10 x 5 1/2 x 5/8

DE

KSBC-34T

763185

ANVIL

763186

Timbersaws

Raptor

4

220mm x 60mm x15mm

KSBC-180

ANVIL

KSA-90

Vermeer

BC1400, BC1400TX, BC1500

3

8 x 5 x 5/8

DE

KSBC-73

156811001

BC1000XL

4

9 x 4 1/2 x 5/8

DE

KSBC-58

153175001

BC1000

ANVIL

KSA-27

606, 620, 625, 625A, BC600XL

3

8 x 3 1/2 x 5/8

KSBC-23

90387001

906, 935

3

12 x 3 1/2 x 3/8

KSBC-30

101175001

1800, 2000, 1800A

5

10 x 5 1/2 x 5/8

DE

KSBC-34T

154390001

1220, 1230, 1250, 1230A

3

8 x 3 1/2 x 3/8

KSBC-18

79511001

1800XL, BC2000XL

5

10 x 5 x 5/8

KSBC-138

154390001