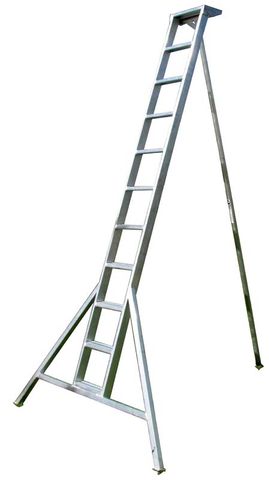 Orchard Ladder
Orchard Ladders have been used in orchards for decades and by the very nature of their tripod design are more practical and much safer than a conventional step ladder. With a vast range of sizes available there is a ladder for every application be it the serious gardener, tree surgeon or orchardist.
Aluminium orchard ladders made from high strength structural grade aluminium are a light and manoeuvrable ladder that are available from 1.1M - 3.48M (3 to 12 feet).
Allite Ladders are made-to-order so please allow up to 10 working days for manufacture and delivery.
Double box section stiles

The double-braced stile means the ladder has a very high torsional twist strength, giving a rigid feel.

Pivot

Heavy duty, high strength pivot allows for years of hassle-free use. No bolts are used on the ladders.

Welded steps with grips

Wide welded steps with anti-slip tread provides excellent foot support.

Triangular footprint

Gives extra stability and means the ladder does not wobble on uneven ground.

Spiked feet

50mm ground spike on all three legs giving the ladder a firm footing.
Specs:
| | | | | |
| --- | --- | --- | --- | --- |
| Code | Size (m) | Size (ft) | Steps | Weight (kg) |
| OL03FT | 1.10 | 3 | 4 | 6 |
| OL04FT | 1.35 | 4 | 5 | 7 |
| OL05FT | 1.60 | 5 | 6 | 8 |
| OL06FT | 1.90 | 6 | 7 | 9 |
| OL07FT | 2.15 | 7 | 8 | 10 |
| OL08FT | 2.43 | 8 | 9 | 11 |
| OL09FT | 2.70 | 9 | 10 | 12 |
| OL10FT | 2.95 | 10 | 11 | 13 |
| OL11FT | 3.22 | 11 | 12 | 14 |
| OL12FT | 3.48 | 12 | 13 | 15 |