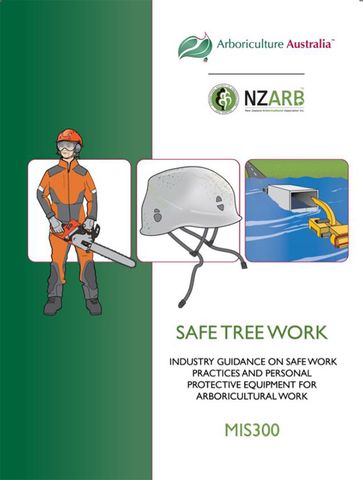 MIS301 Arborist Knots - 2nd ed.
Minimum Industry Standard series
Members Price is for Members of The New Zealand Arboricultural Association (NZARB).
The vision of NZ Arb is to represent the arboriculture community and make it the primary organisation for tree care and to maintain relevancy to the Association's members, so if you are in the NZ tree care industry please consider joining NZARB by clicking the link above if you are not already a member.

This book is one in a series of Minimum Industry Standards produced by Arboriculture Australia Ltd and the New Zealand Arboricultural Association in consultation with the national arboriculture community in both countries. These industry peer-reviewed documents provide a 'body of knowledge' which is shared by practitioners and can be used as the basis for training, dissemination of skills and professional development.
This document covers the core work skills of operating safely on tree work sites. The document is aimed at workers conducting tree pruning and removal operations, rather than consultancy, testing or other types of arboricultural works.
Contents:
1: Working in arboriculture
Introduction
Fundamentals of safe work in arboriculture
Risk management
Risk management process
Sample risk matrix
Risk control measures
Example risk control measures
Competency for the task
Safety responsibilities at work
Fit for work
2: Preparing to conduct tree work
Receiving work instructions
Permits and notifications
Selecting and preparing equipment and PPE:
Personal Protective Equipment (PPE) for Arboriculture
PPE Frequently Asked Questions
A minimum standard for PPE
Helmet
Eye protection
Hearing protection
Safety boots
Chainsaw protective clothing
High visibility clothing
Sun protection
Gloves
Arc flash protection
Other PPE
Working in remote areas
3: Arriving on site
Approval to be on site
Deciding on a work plan
Site and tree risk assessment
Safe Work Method Statements and risk controls
Recording site and tree inspection
Completing the JSA or similar
Site hazards
Uneven or disturbed ground
Insects or wildlife
Hangers
Allergenic plants or vines
Electrical conductors and other services
Weather conditions
Tree hazards
Environmental impact and control measures
Environmental management plan
Waste/clean-up management plan
Water quality protection
Noise control
Dust/debris management
Site setup and preparations for work
Preparing the site
Work site exclusion zones
Signs
Traffic management
Emergency preparations
Aerial rescue
Pre-start checks
4: Conducting tree work
Safe work practices: accident prevention methods
Examples of safe work practices
Basic site safety rules
Work methods
Manual handling
Heat stress and dehydration
Fatigue and stress
Stress management
Communication during tree work
Call-and-response protocol
Methods of communication on tree sites
Hand and whistle signals for use on tree sites
Site management during tree work
5: Completing tree works
Processing debris
Cleaning, storing and transporting equipment
Retiring condemned equipment
Completion of works
Specs:
Minimum Industry Standards
The Minimum Industry Standard series is dedicated to all our fellow workers who have lost their lives or have been permanently injured working in the arboriculture and vegetation management industries.
The Minimum Industry Standards project is an Arboriculture Australia led initiative that the NZ Arb is pleased and proud to be involved with. Having joined the programme, NZ Arb works alongside Arboriculture Australia to develop these Minimum Industry Standards. Each Minimum Industry Standard (MIS) provides the key knowledge that is necessary to perform the work task.
| | |
| --- | --- |
| Dimensions | 150 x 210 mm |
| Pages | 129 |
| Cover | Soft Cover |
| Binding | Wire-O |