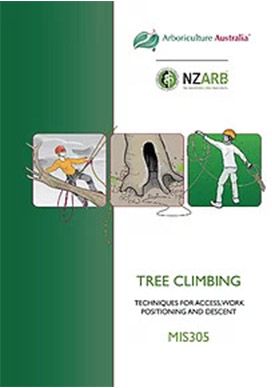 MIS305 Tree Climbing - 2nd ed.
Minimum Industry Standard series
Members Price is for Members of The New Zealand Arboricultural Association (NZARB).
The vision of NZ Arb is to represent the arboriculture community and make it the primary organisation for tree care and to maintain relevancy to the Association's members, so if you are in the NZ tree care industry please consider joining NZARB by clicking the link above if you are not already a member.

This book is one in a series of Minimum Industry Standards produced by Arboriculture Australia Ltd and the New Zealand Arboricultural Association in consultation with the national arboriculture community in both countries. These industry peer-reviewed documents provide a 'body of knowledge' which is shared by practitioners and can be used as the basis for training, dissemination of skills and professional development.
This book covers the basics of tree climbing equipment and tree access using a variety of tree climbing skills and techniques. Many other techniques, climbing systems and climbing equipment configurations are possible which are not discussed in this document. Nevertheless, the skills and techniques presented in this document form a solid foundation on which practitioners can build.
Contents:
INTRODUCTION TO TREE CLIMBING

Competency for tree climbing
What is good tree climbing?

TREE CLIMBING EQUIPMENT

ESSENTIAL TREE CLIMBING EQUIPMENT

Arborist harness
Lanyard and adjustor
Steel-core lanyards:
Rope lanyards:
Climbing rope and friction hitch
Hitch-minding pulleys and friction devices
Karabiners and other connectors
Correct configuration of karabiners

EQUIPMENT INSPECTION

Equipment inspection checklist
Climbing equipment standards

CLIMBING SYSTEMS

Building a climbing system
Safe climbing systems
Simple climbing systems
Efficient climbing systems
Ergonomic climbing systems

CLIMBING SYSTEM COMPARISON

Example of inefficiency in a climbing system
Example of inefficiency in a climbing system (continued)
Selecting and configuring equipment within a climbing system
Example of equipment compatibility and configuration: Petzl RIG

CORRECT SELECTION AND USE OF TREE CLIMBING EQUIPMENT

Example of equipment misconfiguration

PREPARING TO WORK IN TREES

SITE AND TREE HAZARD INSPECTION

Work site exclusion zones
Tree species and behaviour

PREPARING FOR CLIMBING

Developing a work strategy
Comparing work strategies
Hazard control measures for tree climbing

CLIMB PLANS

Selecting a tree access method
1: Alternating anchor points
2: Setting an anchor point using a throwline or similar
3: Spur climbing

COMMUNICATION

TREE CLIMBING: CORE SKILLS

CORE SKILLS 1: INSTALLING AN ANCHOR POINT

Throwing rope
Using a throwline
Manipulating a throwline
Selecting a suitable anchor point
Testing an anchor point
Connecting to a climbing system
Advancing a system / alternating anchor points
Selecting a Tie-In-Point (TIP)

CORE SKILLS 2: WORK POSITIONING

Rope angle
Branch walking
Work positioning

CLIMBING TECHNIQUE 1: MOVING ROPE TECHNIQUE

Body thrusting
Assisted body thrusting
Footlocking the tail of the rope
Use of a foot ascender
Trunk walking

MRT TIE-IN-POINTS: FRICTION SAVERS

Ring and ring friction saver
Retrieving a friction saver
Setting a friction saver from the ground
Single-pulley friction savers

DESCENDING FROM A TREE

CLIMBING TECHNIQUE 2: SPUR CLIMBING

SPUR FIT, SHARPENING AND ADJUSTMENT

SPUR CLIMBING - BASIC TECHNIQUE

Advancing the lanyard
Self-arrest

WORKING ON CLIMBING SPURS

Branch walking with climbing spurs

CLIMBING TECHNIQUE 3: STATIONARY ROPE TECHNIQUE

INTRODUCTION TO STATIONARY ROPE TECHNIQUE

MRT vs SRT - selecting the right tool for the job
SRT setups and terminology
Basal anchors
Canopy anchors

BASICS OF SRT CLIMBING - SRT SYSTEMS

SRT ascent systems
SRT descent systems
SRT work-positioning systems

TECHNIQUES FOR SRT WORK POSITIONING

Working in columns I: use of multiple climbing ropes
Working in columns II: main line and redirect line
SRT: 3:1 systems for work positioning

ADDITIONAL SKILLS 1: REDIRECTS

REDIRECT TERMINOLOGY

REDIRECTS, ROPE ANGLE AND FORCES

Natural redirects
Retracing a climbing system – MRT
Retracing a climbing system – SRT
Fixed artificial redirects
Removable and retrievable artificial redirects (MRT)
Removable and retrievable artificial redirects (SRT)

ADDITIONAL SKILLS 2: USE OF MULTIPLE LINES

ACCESS LINES

USE OF MULTIPLE LINES

Counterbalance technique
V-Rig technique

FLOATING ANCHORS AND HIGH LINES

APPENDIX A: HAZARD CONTROL MEASURES

BRACING AN ANCHOR POINT

GUYING A TREE

STRAPPING OR CINCHING A CRACK OR SPLIT IN A TREE
Specs:
Minimum Industry Standards
The Minimum Industry Standard series is dedicated to all our fellow workers who have lost their lives or have been permanently injured working in the arboriculture and vegetation management industries.
The Minimum Industry Standards project is an Arboriculture Australia led initiative that the NZ Arb is pleased and proud to be involved with. Having joined the programme, NZ Arb works alongside Arboriculture Australia to develop these Minimum Industry Standards. Each Minimum Industry Standard (MIS) provides the key knowledge that is necessary to perform the work task.
| | |
| --- | --- |
| Dimensions | 150 x 210 mm |
| Pages | 184 |
| Cover | Soft Cover |
| Binding | Wire-O |