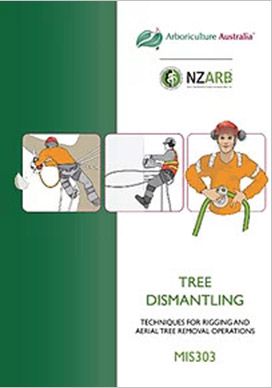 MIS303 Tree Dismantling - 2nd ed.
Minimum Industry Standard series
Members Price is for Members of The New Zealand Arboricultural Association (NZARB).
The vision of NZ Arb is to represent the arboriculture community and make it the primary organisation for tree care and to maintain relevancy to the Association's members, so if you are in the NZ tree care industry please consider joining NZARB by clicking the link above if you are not already a member.

This book is one in a series of Minimum Industry Standards produced by Arboriculture Australia Ltd and the New Zealand Arboricultural Association in consultation with the national arboriculture community in both countries. These industry peer-reviewed documents provide a 'body of knowledge' which is shared by practitioners and can be used as the basis for training, dissemination of skills and professional development.

This standard covers the basics of tree dismantling, including rigging techniques, the use of a chainsaw in trees, and some fundamental concepts of rigging forces and rigging system design.

Information on equipment inspection, site setup, pre-start checks, tree inspection, rope use, knot tying, the operation of chainsaws, tree felling and tree access is contained within the appropriate MISs for those work tasks.
Contents:
1: Preparing for tree removal

Introduction to tree rigging and dismantling

Arriving on site

Preparing to remove trees – site setup

Tree removal strategies

Tree inspection for dismantling

Hazard control measures for tree dismantling

Basic rigging concepts

Parts of an aerial rigging system

Selecting and inspecting rigging equipment

Rigging equipment: general concepts and terminology
Rigging equipment inspection checklist

Aerial rigging systems

Common components of a rigging system
Selecting anchor points in trees – tree strength and structural integrity
Fixed rope anchor points – attaching a rope
Running bowline
Round turn with 2 half-hitches
Main attachment knot plus half-hitch
Clove hitch with two half-hitches
Cow's hitch with better half
Timber hitch
Karabiner
Karabiner and sling
Shackle or similar connector
Other fixed-rope attachments
Moving rope anchor points
Natural crotch
Block, rigging block, impact block
Pulleys
Rigging rings
Moving rope anchor point attachment components
Sling, tape sling, tube tape sling
Loopie sling
Whoopie sling
Dead-eye sling
Other anchor points and attachment options
Rope brakes
Trunk wraps
Wraps in tree
PortaWrap or similar floating friction brake
Bollard, drum or similar

Rigging equipment configuration and proper use

Example of misconfigured rigging equipment

Designing a rigging system

Rigging system design considerations
Estimating weight of sections
Tree species density table

Introduction to forces in rigging

Different loads on components in rigging system

2: Dismantling trees

Communication during tree work

Call-and-response protocol
Hand and whistle signals for use on tree sites

Using a chainsaw in trees

Cut sequences and techniques – branches

Straight back cut

Step cut – undercut made first – top cut inside
Step cut – undercut made first – top cut outside
Step cut – top cut made first
Step cut – lateral cuts
Scarf and back cut – downward
Scarf and back cut – upward
Box cut

Cut sequences and techniques – tree heads and timber

Falling the head out of a tree
Falling sections of timber
Falling sections of timber – landing sections flat
Cutting techniques where trunk diameter is greater than bar length
Blocking down: step cuts on timber

Falling techniques for tree dismantling – use of wedges and taglines

Rigging operations

Rigging attachment point: cut and behaviour

Rigging upright sections
Rigging lateral sections or branches

Rope control during rigging operations

Rope control: rope brakes and friction management

Installing rope brakes
Using rope brakes: adding tension
Rope control during rigging operations – general principles
Tips for using rope brakes

Returning rigging components

Specific rigging techniques

Natural crotch rigging

Applying friction at the point of cut

Techniques for applying friction at the point of cut
Branch removal – wraps method 1
Branch removal – wraps method 2
Artificial rope brake at point of cut
Snatching – wraps at point of cut

Snatching

Minimising peak force in negative rigging

Estimating peak loads in negative rigging
Mass damping

Bracing a rigging point

Floating anchors: highlines and multiple point floating anchors

Speed line or zip line

Running anchor rigging

Running anchor rigging example

Lifting systems

Guying a tree

3: Completing tree removal

Biosecurity and transmission of pathogens

Completion of works

Appendix A: Rigging system diagrams

Positive rigging systems

Simple anchor | friction at base of tree
Butt tying
Tip tying
Use of a tagline 76
Use of multiple anchor points
Cradle rigging
Lifting
Friction applied at anchor point/s in tree
Use of multiple rigging ropes – shared load or load transfer 11
Floating anchor 1: single floating anchor 12
Running anchor 1 183
Running anchor 2: speed line 184
Floating anchor 2: high line 185

Negative rigging systems

Snatching
Snatching – friction at point of cut
Negative rigging – redirects
Friction at the point of cut 1: negative branch rigging
Friction at the point of cut 2: transferring loads
Running anchor 3: negative rigging
Vertical speed line

Appendix B: Working the angles

Introduction to forces

Working in newtons
Force, lever arm and bending moment
Lever arm
Force vectors at anchor points
Deflection forces
Specs:
Minimum Industry Standards
The Minimum Industry Standard series is dedicated to all our fellow workers who have lost their lives or have been permanently injured working in the arboriculture and vegetation management industries.
The Minimum Industry Standards project is an Arboriculture Australia led initiative that the NZ Arb is pleased and proud to be involved with. Having joined the programme, NZ Arb works alongside Arboriculture Australia to develop these Minimum Industry Standards. Each Minimum Industry Standard (MIS) provides the key knowledge that is necessary to perform the work task.
| | |
| --- | --- |
| Dimensions | 150 x 210 mm |
| Pages | 222 |
| Cover | Soft Cover |
| Binding | Wire-O |