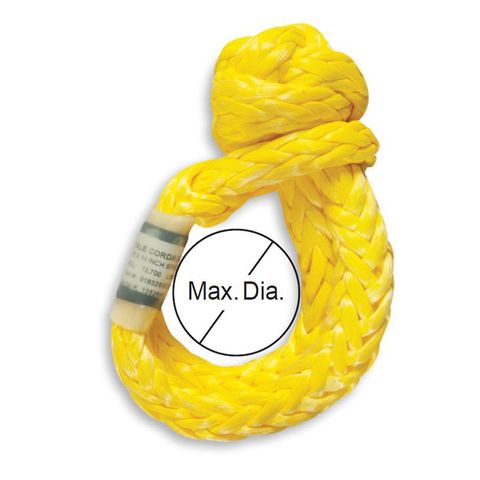 YALE Synthetic Shackle
The Synthetic Shackle is made from Yale's Ultrex 12-strand UHMWPE (Ultra High Molecular Weight Polyethylene) fiber and is Maxijacket High Performance coated for structural firmness and increased abrasion resistance. It is lightweight and offers a quick connection with no tools required.
These will never rust or corrode and will not shatter if broken which can be an issue with metal shackles.
They are also soft so are less likely to cause damage to objects it comes into contact with.
Used where sharp edges or excessive abrasion will not be present.
Safe and easy to use.
Specs:
mm
Minimum Open Length* (mm)

Minimum Increment
(mm)

Knot Diameter (mm)
Maximum Diameter** (mm)
Average Break Strength (kgs)
6
178
50
28
30
5,085
8
229
50
36
38
10,440
10
279
50
43
46
15,436
11
305
100
50
50
19,840
13
356
100
56
63
28,875
14
406
100
64
71
34,731
* Length measured flat from base of knot to bearing point of eye.
** Maximum diameter indicates the diameter of an object that the shackle can be closed around. Values represented are based on the minimum open lengths shown.