Home

/

73EXL .058" Chisel Chain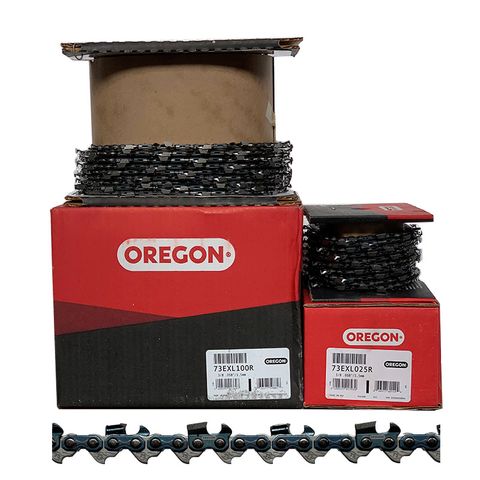 Oregon 3/8" x .058" Chisel Chain
With every cut, your reputation is on the line.
That's why we've spent generations engineering the sharpest, fastest professional cutting systems in the world. Day in and day out, the PowerCut 70-Series EXL full chisel cutters help you power through timber with speed, efficiency, and precision. An upgrade to the popular LGX chain, 70-Series EXL features a more aggressive cutter geometry, lubrication improvements, and easier maintence.
Designed to maximize every cut, our proprietary cutter technology gives users a sharper, more durable cutting edge that provides increased cutting performance with less effort. We're constantly raising the bar, pushing ourselves to exceed the demands of the professionals who rely on us to make the job feel less like work.
Advantages
Multi-axis grind technology for superior performance, sharpness, and consistency
Reshaped cutters power through timber with speed, efficiency, and precision
Designed to reduce the force applied by the operator
Engineered to utilize the full power of today's high-output professional saws
LubriTec™ keeps your saw chain and guide bar oiled for less friction and longer life
Gold Loop Start Indicator makes sharpening easier with start and stop identification
25ft Roll has 412 Drivelinks
100ft Roll has 1640 Drivelinks
Use 13/64 or 7/32 File for sharpening
Specs:
Recommended Saw Sizes: 50-100 cc
Bar Lengths: 16-36" (40-90 cm)