Home

/

PROTOS® Integral Forestry Helmet - Yellow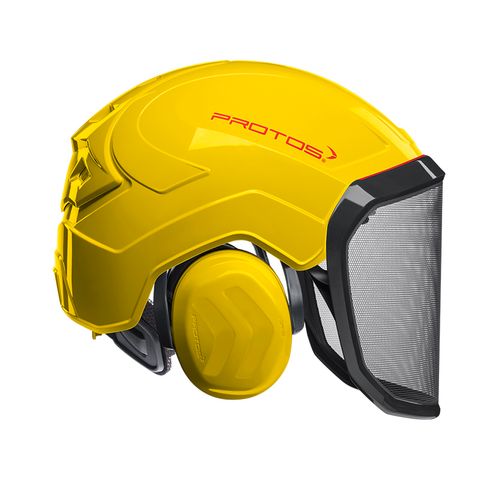 PROTOS® Integral Forestry Helmet - Yellow
Description
PROTOS® Integral Forestry Helmet
The PROTOS® Integral is not an ordinary head protection - it is the only one of its kind in terms of limitless comfort! The brilliant solutions provided by the Protos® Integral are registered by 10 international patents. The Protos® Integral is at least 10 steps ahead of requirements.
The helmet for the hardest tasks.
The PROTOS Integral helmet, certified according to EN397, EN352-3 and EN1731, is best suited for the hardest operations and the most extreme weather conditions, from cold and wet to hot and dry temperatures. Thanks to the excellent ventilation, the head remains cool and dry while the visor allows for maximum visibility with no risk of freezing in below freezing temperatures. The feature that makes the PROTOS Integral unique is the "Integral solution". We have managed to integrate all parts inside the helmet shell. As a result there is no risk of getting hung up on branches, brush or other obstacles.
Included Accessories
PROTOS® Integral Hearing Protection – EN352-3 (Item No.: 204067)
PROTOS® Integral Metal Visor F39 – EN1731 (Item No.: 204063)
OR
PROTOS® Integral Metal Visor FG16 – EN1731 (Item No.: 204064)
Size
One size (54-62)
Patents and design patents
EP Nr. 2 498 636
EU design no. 1731167
Swiss design no. 137 620
US design pat. no. D677,006
EP Patent No. 2 498 635
EP Patent No. 2 506 731
US patent no. 8,806,667
EP design no. 1 974 528
EP design no. 2012 101 489
Further national and international patents and designs are pending, in particular for the interior equipment, the visor (incl. face mask with elastic damping and sealing lip) and the CrashAbsorber.