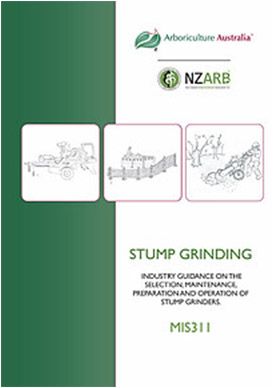 MIS311 Stump Grinding
Minimum Industry Standard series
Members Price is for Members of The New Zealand Arboricultural Association (NZARB).
The vision of NZ Arb is to represent the arboriculture community and make it the primary organisation for tree care and to maintain relevancy to the Association's members, so if you are in the NZ tree care industry please consider joining NZARB by clicking the link above if you are not already a member.

This book is one in a series of Minimum Industry Standards produced by Arboriculture Australia Ltd and the New Zealand Arboricultural Association in consultation with the national arboriculture community in both countries. These industry peer-reviewed documents provide a 'body of knowledge' which is shared by practitioners and can be used as the basis for training, dissemination of skills and professional development.
This Standard covers the work tasks of preparing, maintaining and using stump grinders, as well as a range of considerations for selection of an appropriate grinder and applicable safety considerations.
Contents:
A Minimum Industry Standard for stump grinding
Industry partners
How to use this Minimum Industry Standard
1: Introduction to stump grinders
Types of stump grinders
Chainsaw attachment
Pedestrian
Power Take Off grinders
Tow behind
Attachment to skid steer machine
Self-propelled grinders
Choosing the correct type of grinder
Comparison of stump grinder types
Hiring or buying a grinder
Components
2: Maintaining and preparing stump grinders
Performing regular checks
Daily checks
Weekly checks
Monthly checks
Three monthly checks
Yearly checks
Sharpening teeth
Removing the teeth
Fitting the teeth
Transporting the grinder to the work site
Tow-behind grinders
Trailers and vehicle towing capacity
Towing capacity
Loading the grinder onto a trailer
Loading auxiliary equipment
Transporting the grinder
Unloading
3: Preparing for the job
Scoping of works or work specifications
Selecting and preparing equipment and Personal Protective Equipment (PPE)
Selecting machine and tools
Selecting Personal Protective Equipment (PPE)
Safe work method statements and risk control
Example of risk control measures
Completing the JSA
Site Hazards
Emergency plan
Work instructions
4: Grinding out the stump
Preparing the stump
Setting up the grinder and rechecking
Grinding the stump
Cleaning up
Recording the outcome of the job
5: Post operations
Backfilling stump hole
Replanting
Tidying and removing debris
Cleaning off all tools and equipment
Biosecurity and the transmission of pathogens
Biosecurity measures
Clean On / Clean Off procedure
Performing basic maintenance
Loading up and securing the grinder for transporting
Liaising with client
Glossary
Minimum Industry Standards
Using the MIS in training and assessment
Disclaimer for Minimum Industry Standards and all associated documents
Industry stewardship program