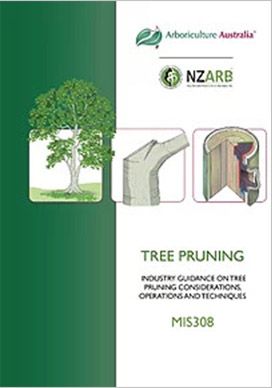 MIS308 Tree Pruning - 2nd ed.
Minimum Industry Standard series
Members Price is for Members of The New Zealand Arboricultural Association (NZARB).
The vision of NZ Arb is to represent the arboriculture community and make it the primary organisation for tree care and to maintain relevancy to the Association's members, so if you are in the NZ tree care industry please consider joining NZARB by clicking the link above if you are not already a member.

This book is one in a series of Minimum Industry Standards produced by Arboriculture Australia Ltd and the New Zealand Arboricultural Association in consultation with the national arboriculture community in both countries. These industry peer-reviewed documents provide a 'body of knowledge' which is shared by practitioners and can be used as the basis for training, dissemination of skills and professional development.
This document covers the work task of tree pruning, including a brief summary of the underpinning knowledge necessary to select and perform suitable pruning operations to achieve a variety of objectives. This document is not a 'standalone' document, and must be read in conjunction with other Minimum Industry Standards which describe safe arboricultural work practices.
Contents:
Pruning trees

Introduction to tree pruning
How to use this Minimum Industry Standard

1: Pruning considerations

Tree health considerations

The tree as a living organism
Tree species
Foliage retention: loss of photosynthetic material
Tree growth habits
Pruning impacts: physiological impacts
Compartmentalisation and barriers to decay
Occlusion
Age and health of tree
Pruning objectives by age class
Biosecurity and transmission of pathogens
Examples of transmissible tree diseases
Timing of pruning operations

Tree structural considerations

The tree as a biomechanical structure
Axiom of uniform stress
Thigmomorphogenesis
Strategy of flexibility
Foliage distribution
Foliage distribution: torsional failure
Foliage distribution: mass damping
Foliage distribution: interconnectedness and environmental exposure
Growth habit and structure
Branch and stem attachment
Strength of branch and stem unions
Co-dominant stems
Crossing or rubbing branches
Natural bracing
Epicormic shoots

Ecological considerations

The tree as a keystone structure
The ecological value of deadwood
Retention of habitat

2: Pruning operations

R: Reduction pruning

T: Crown thinning

AC: Asset clearance

Asset clearance: vegetation management around electrical conductors
Vegetation management around utility infrastructure

C: Crown lifting

RA: Risk abatement pruning

Risk abatement pruning practices
D: Deadwood removal
Retaining deadwood in mature and veteran trees
WR: branch or stem weight reduction
Weight reduction: thinning
Weight reduction: reduction pruning
Pruning classes for weight reduction
Weight reduction pruning techniques




H: Remedial pruning

RT: Retrenchment pruning

Developing a retrenchment plan
Example retrenchment pruning plan: exotic species
Example retrenchment pruning plan: typical Australian species

F: Formative pruning

SP: Structural pruning

ER: Epiphyte / parasite and vine removal

P: Pollarding

PP: Palm pruning

Poor pruning practices

Lopping and topping
Flush cutting
Wound painting

3: Conducting pruning

Tree pruning permits and tree protection laws

Tools and equipment for tree pruning

Biosecurity measures

Clean On / Clean Off procedure

Tree access for pruning

Making pruning cuts

Bad working positions
Good working positions
Pruning cut sequence
Cut sequence and branch behaviour

Pruning cuts

Branch reduction cuts
Examples of incorrect branch reduction cuts
Stem reduction cuts
Branch removal cuts (living branches)
Branch removal cuts (deadwood)
Fracture pruning and coronet cuts
Fracture pruning
Fracture pruning techniques
Coronet cuts
Coronet cut techniques
Root pruning

Completing tree works

Processing debris
Completion of works

The care of trees
Specs:
Minimum Industry Standards
The Minimum Industry Standard series is dedicated to all our fellow workers who have lost their lives or have been permanently injured working in the arboriculture and vegetation management industries.
The Minimum Industry Standards project is an Arboriculture Australia led initiative that the NZ Arb is pleased and proud to be involved with. Having joined the programme, NZ Arb works alongside Arboriculture Australia to develop these Minimum Industry Standards. Each Minimum Industry Standard (MIS) provides the key knowledge that is necessary to perform the work task.
| | |
| --- | --- |
| Dimensions | 150 x 210 mm |
| Pages | 169 |
| Cover | Soft Cover |
| Binding | Wire-O |