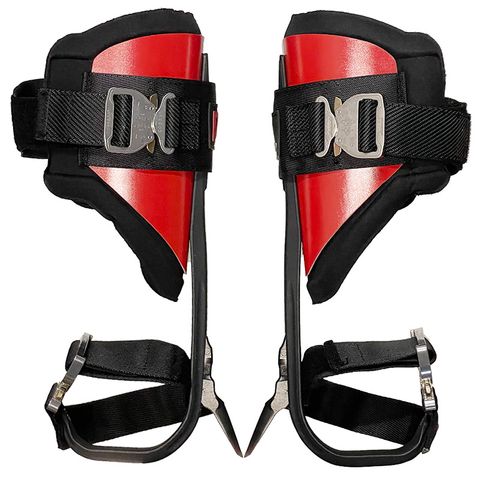 Distel Alu 3 Click Buckle Tree Climbers
Description

The Next Generation in lightweight climbers
Distel Alu 3 Click Buckle Tree Climbers
With NEW Alu 3 Shanks, 2020 Pads, Click Buckle leg straps and Click Buckle foot straps
Uli Distel and sons Martin and Johannes have created the third evolution of Distel aluminum climbers that come with newly designed, hot-forged shanks:
10% lighter than the previous version, only 50 grams each, realized by optimized cross section and using a stronger alloy.
Anti-slip ribs on the bottom of the stirrup and 3-dimensional forging details.
Blasted surface for highest possible bending fatigue strength together with a scratch-resistant black polymer anodization results in an awesome satin matt finish.
Features:
Designed and made in Germany
Construction: NEW Alu 3 alloy shank, fibreglass cuff
2020 Pads
Wide Click Buckle leg straps
Click Buckle Foot straps
Light and very comfortable to wear
Gaffs can be changed with a Torx 45
New 2020 Pads
The new 2020 pad for all Distel climbers was developed with the objective of significantly increasing the comfort for the user. This was realized mainly through four points:
Additional padding for the shin and calf is realized with an approximately 50% larger foam plate. The new padding now encloses almost the entire leg.
An optimized fit into the shell, and ultimately to the user's leg, is achieved by a grid structure of the pad. The ideal layout was developed by several prototypes, which were produced freehand from a foam material using a router.
The grid structure results in a punctual pressure distribution. This leads to a significantly increased subjective feeling of comfort.
Although the same foam is used as in the previous pad, an optimized cross-sectional design, increased the thickness of the pad from 1.5 cm to 2 cm.
The bottom line is that a highly complex thermoformed part has been created, which will meet the demands of the modern arborist in 2020.
PTFE-coating of the gaffs
Since 2018, Distel has been using PTFE for the coating of its gaffs. PTFE is widely known as a highly technical plastic that drastically reduces friction and breakaway torques, for example on aluminum pans. On climbing gaffs on climbers, PTFE leads to easier release of the gaff from the wood, resulting in power saving and a stress-free and easier way of working.