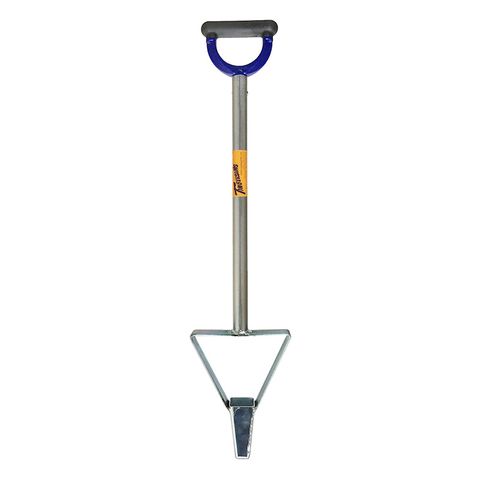 Description
TIMBERSAWS Plug Planter
The Plug Planter is made from a high tensile material, for use in easy non rocky soil. To suit standard plugs, 50 x 50 x 110mm (50 plugs per tray).
All planting spades specs.
Click on a spade name in the table to go to that spade.
Yellow highlighted specs are for this spade.
| | | | | | | | |
| --- | --- | --- | --- | --- | --- | --- | --- |
| Spade | Shaft | Length | Blade Length | Blade Width Top | Blade Width Bottom | Blade Thickness | Weight |
| Ace 1 | Straight | 960mm | 300mm | 170mm | 120mm | 4mm | 2.90kg |
| Ace 1 Light | Straight | 960mm | 300mm | 170mm | 120mm | 3.2mm | 2.75kg |
| King | Straight | 980mm | 320mm | 150mm | 100mm | 4mm | 2.85kg |
| Poker | Straight | 910mm | 290mm | 150mm | 125mm | 4mm | 2.70kg |
| Jack 1 | Offset | 960mm | 300mm | 170mm | 120mm | 4mm | 3.10kg |
| Jack 2 | Offset | 960mm | 300mm | 170mm | 125mm | 4mm | 2.95kg |
| Jack 3 | Offset | 960mm | 300mm | 170mm | 125mm | 4mm | 3.30kg |
| Little Ripper | Offset | 960mm | 280mm | 135mm | 90mm | 4mm | 2.30kg |
| KT Spade | Straight | 970mm | 410mm | 180mm | 130mm | 4mm | 3.05kg |
| Beez Neez T | Straight | 1100mm | 250mm | 100mm | 80mm | 4mm | 3.20kg |
| Beez Neez H | Straight | 900mm | 250mm | 100mm | 80mm | 4mm | 2.25kg |
| PC290 | Straight | 864mm | 230mm | 108mm | 83mm | 3mm | 1.50kg |
| PC270 | Straight | 864mm | 220mm | 98mm | 70mm | 3mm | 1.40kg |
| TS4 | Straight | 900mm | 310mm | 150mm | 110mm | 3mm | 2.30kg |
| TS5 | Offset | 900mm | 310mm | 150mm | 110mm | 3mm | 2.30kg |
| TS6 | Straight | 960mm | 310mm | 150mm | 110mm | 3mm | 2.40kg |
| TS7 | Offset | 960mm | 310mm | 150mm | 110mm | 3mm | 2.40kg |
| Walsh | Offset | 1010mm | 300mm | 150mm | 110mm | 3mm | 2.40kg |
| Plug Planter | Straight | 940mm | 110mm | 50x50mm | 30x30mm | 2mm | 2.40kg |