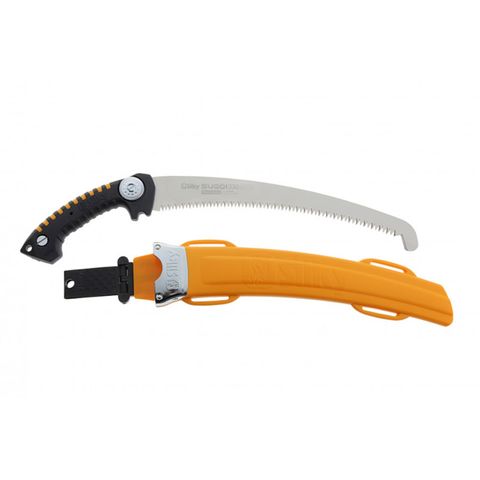 SILKY CURVED Saw SUGOI 330 EXTRA LARGE Teeth
State-of-the-art, must-have professional arborist saw with a razor-sharp and ultra-fast cutting curved 330mm blade. Nicknamed by arborists as "Tree Tiger" due to its super aggressive progressive tooth pattern and yellow-orange tiger stripes on the rubber handle, "SUGOI" stands for "INCREDIBLE" in Japanese. Ideal for aggressive cutting and efficient chip removal. A large and comfortable sure-grip handle gives strength and flexibility to the full length of the saw. Curved blade increases strength and performance. Comes with the custom high-visibility plastic scabbard that can be attached to the belt or lower leg. Ideal for pruning large limbs on the ground or at height.
The new 330mm Sugoi has lighter weight, a faster cut, and the most efficient Sugoi yet! With extra features including;
3D-Roller Lock System
- The three rollers provide a smoother action when inserting the saw in the sheath from any angle. The tri-roller system includes a locking mechanism that prevents the saw from accidentally falling out.
Ultra Lightweight Handle and Scabbard
- The ultra lightweight, highly effective handle and scabbard are due to a new design and the use of innovative materials.
Progressive Teeth
- Progressive teeth provide an easier, smoother start of the cutting stroke followed by a high speed, super productive finish.
​
Product Features
5.5 - 6.5 teeth per 30mm (4.7 - 5.5 teeth per inch)
330mm (13 inch) length blade
Approximate weight 700g
Low effort triple edge, non-set tooth design
Electroless Nickel plated blade
Non-slip sure-grip rubber handle is very easy to grip
Perfectly balanced, rugged, one piece construction
Large, precision progressive tooth pattern
Curved back adds depth and strength
Because impulse-hardening is not applied, the blade can be sharpened with a file
Ultra Lightweight Handle and Scabbard
3D Roller Lock System
Leg straps included
Superior finish quality
Limited 12 month manufacturers warranty
Specs:
Code
Size
Weight
Teeth per
30mm / inch
Saw
390-33
700g
Blade
391-33
330mm / 13"
​5.5 - 6.5 / 4.7 - 5.5
| | |
| --- | --- |
| | Mirai-Me Smooth Cutting - The teeth of the future! Blades have precision ground, razor sharp teeth with 4 cutting angles along their length. They leave an especially smooth surface after cutting and are ideal for pruning, greatly reducing the risk of infection. They can rip-cut, cross-cut and slant-cut. |
---
---
---
Electroless Nickel Plating

- The new coating process allows the entire blade, even the teeth, to be coated. This provides superior wear and rust resistance for improved cutting performance and extended blade life.

Rubber Handle

- Almost all Silky saws have rubber compound elastomer handles either inserted or vulcanized to ABS plastic or steel, and are comfortable to hold, reduce vibration and offer superior grip when hands are wet or cold and when wearing gloves.
---